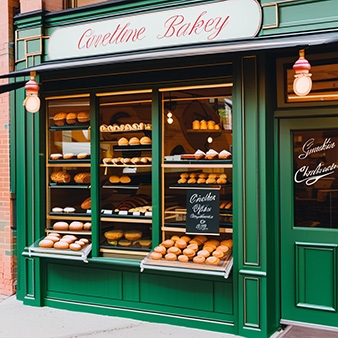 Introduction:
In today's fast-paced business world, even small businesses like local bakeries can immensely benefit from data-driven decisions. Our recent collaboration with "Delightful Bites", a quaint bakery nestled downtown, showcases how AI-powered insights can help streamline operations and boost sales.
The Challenge:
Maggie, the passionate owner of "Delightful Bites", reached out with a predicament. Despite her delectable pastries and loyal customers, she faced persistent inventory mismatches. Often she baked excess pastries that remained unsold, while at other times, her popular items flew off the shelves too quickly.
Hypothetical Data In Play:
Past 6 months sales data:

Croissants: 3,000 units
Muffins: 2,500 units
Bread loaves: 4,500 units
Cupcakes: 3,500 units

Current Raw Material Inventory:

Flour: 200 kg
Sugar: 50 kg
Eggs: 500 units
Chocolate chips: 30 kg

Wastage Insights:

Croissants had a 10% wastage rate.
Cupcakes, surprisingly, had a 12% wastage rate.

Local Dynamics: A bustling farmer's market every Saturday morning, just a short walk from the bakery.
ChatGPT-driven Solutions:
Deep Dive Sales Analysis:

Analyzing the bakery's sales data, average weekly sales were mapped out.
The nearby farmer's market's impact was quantified, predicting a 15% sales bump every Saturday.

Optimizing Inventory:

Using sales data, we determined the consumption rate of raw materials, allowing Maggie to know precisely when to reorder supplies.
For example, with the average raw materials used per muffin mapped out, predicting inventory needs became a straightforward task.

Tailoring Production to Reduce Wastage:

Recommendations were made to slightly reduce the production of high-wastage items.
Factoring in the farmer's market, tailored suggestions for increasing production were given for Saturdays.
Outcomes:
Post-consultation, "Delightful Bites" saw wastage plummet by 40%.
The bakery enjoyed a consistent 20% sales uptick every Saturday.
No more halts in the baking rhythm, as Maggie now had a predictive inventory replenishment model.
Conclusion:
This use case underscores the transformative power of AI for even the most traditional businesses. At "Delightful Bites", a blend of passion for baking and modern AI-driven insights has baked a recipe for success. Whether you're a small business owner or an enthusiast, integrating tech solutions like ChatGPT can significantly elevate your operational efficiency and customer satisfaction.