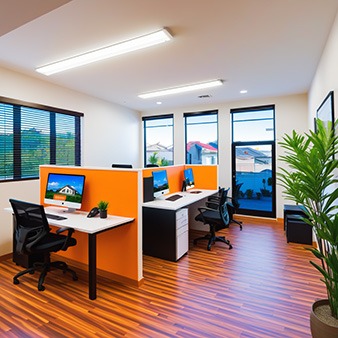 Background:
Sunview Real Estate Agency has built a commendable reputation over 5 years. However, the last half-year saw a dip in lead generation and client interaction, although their marketing strategy remained unchanged. This use case demonstrates how diving deep into business data, combined with ChatGPT solutions, can pave the way for tangible improvements.
Challenges Faced:
Declining lead generation despite consistent website traffic.
Stagnant social media engagement despite a good follower count.
Inability to capitalize on predominantly positive client feedback.
Data Snapshot:
Properties Sold in the Last 6 Months: 120
Average Property Price: $300,000
Monthly Website Traffic: 10,000 visits
Monthly Client Inquiries via Website: 300
Social Media Presence: Instagram (5,000 followers), Facebook (8,000 followers)
Client Feedback Spectrum: 85% positive, 10% neutral, 5% negative
Solution & Strategy:
Boosting Lead Conversion:

Initial Data: Sunview's lead conversion stood at 6.67%.
Strategy: Integration of ChatGPT on the agency's website. This instant engagement tool would answer queries, provide property insights, and schedule visits, aiming to improve the conversion rate.

Revitalizing Website Engagement:

Initial Data: Website conversion rate was only 3%.
Strategy: Revamp website content using ChatGPT-generated material and introduce an interactive FAQ section. This dynamic approach would aim to retain visitor interest and motivate actions like inquiries.

Elevating Social Media Interaction:

Initial Data: Engagement rate hovered at 2.3%.
Strategy: With ChatGPT's assistance, curate engaging posts, conduct interactive polls, and establish real-time interactions. The goal is to enhance follower engagement and drive them to the agency's primary platforms.

Leveraging Client Feedback:

Initial Data: 85% of the feedback was positive.
Strategy: Showcase these glowing testimonials prominently using ChatGPT-crafted content on their website and social channels. For the minor 5% negative feedback, utilize ChatGPT to craft empathetic and solution-oriented responses.
Outcome:
By harnessing the power of detailed business data analysis and the capabilities of ChatGPT, Sunview Real Estate Agency can potentially transform their online presence. This proactive approach promises to enhance digital engagement, increase lead generation, and boost conversion rates, setting Sunview on a trajectory towards greater business success.
Closing Note:This use case exemplifies the transformative power of data-driven insights combined with advanced AI solutions. As businesses evolve in an increasingly digital landscape, tools like ChatGPT, when applied strategically, can be game-changers. Whether you're a small business or an established entity, there's always room for innovation, and this Sunview example is a testament to that.