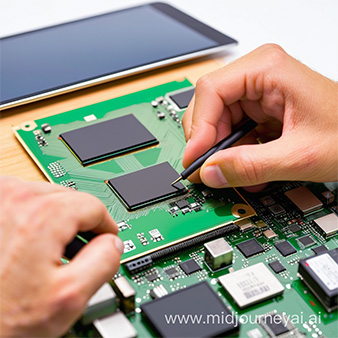 Introduction:
In today's digital age, the difference between stagnation and growth can often be how effectively a business harnesses technology. Let's explore a compelling example of how integrating AI-powered solutions transformed a local electronic repair shop.
Background: "TechFix Hub"
Meet "TechFix Hub", a cozy, town-centric electronic repair outfit with a specialization in smartphones, tablets, and laptops. Run by Mr. Jay Malik, this shop was a symbol of consistency – steady but lacking growth. Amid increasing competition and rising customer complaints about service delays, Jay felt the pinch.
Snapshot of TechFix Hub's Monthly Data:
Revenue: $30,000
Repairs: 400
Average Repair Cost: $75
Repair Duration: 3 hours on average
Customer Dissatisfaction: 12.5% complaints about delays
Marketing: $1000 (focused on local newspapers)
Digital Footprint: A meager 200 website visits, sans online booking
The AI-Powered Consultation Process:
Efficiency Assessment:AI quickly pinpointed an efficiency gap. With repair times totaling 1,200 hours monthly, Jay was either understaffed or the processes were slow. For a business operating 160 hours a month, this was an immediate red flag.
Rethinking Marketing:Spending $1000 to pull in $30,000 sounds reasonable, but with only 200 website hits and no digital booking option, there was room for improvement. AI suggested reallocation of some funds to online advertising and SEO.
Enhancing Customer Experience:A 12.5% dissatisfaction rate is a ticking time bomb in the reputation game. An AI-recommended ticketing system could streamline operations and provide customers with real-time updates.
Putting AI Recommendations into Action:
With the insights in hand, Jay:
Optimized Operations: Introduced technician training for speed and considered expanding the team.
Went Digital: Redesigned the website, enabling online bookings, and rerouted some marketing resources to targeted online advertisements.
Enhanced Customer Interactions: Implemented the ticketing system to reduce complaints and enhance the service experience.
The Three-Month Transformation:
Conclusion:
The "TechFix Hub" use case underscores the pivotal role of AI in deciphering business data and offering actionable, transformative strategies. For small businesses on the brink, leveraging AI, as Jay did, can be the difference between merely surviving and thriving.
Don't let your business miss out on the AI revolution. Harness its potential today!