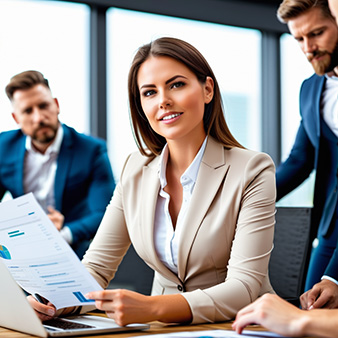 Background:
Delta Insurance Agency, a small-scale provider of home, auto, and life insurance, wanted to better understand its sales team's quarterly performance. Using KPIs, they aimed to make data-driven decisions for improvement.
Challenge:
While DIA knew they were getting sales, they lacked insight into the specifics of their sales performance and areas that required attention.
Solution:
DIA implemented eight key performance indicators (KPIs) to evaluate their sales team's performance over a quarter:
1. Sales Volume
2. Revenue Generated
3. Lead Conversion Rate
4. Average Policy Value
5. Customer Retention Rate
6. Cross-Selling Rate
7. Customer Satisfaction
8. Sales Cycle Length
Results:
Sales Volume:
Quarterly Total: 360 policies (Jan: 120, Feb: 110, Mar: 130)
Revenue Generated:
Quarterly Total: $905,000 (Jan: $300k, Feb: $280k, Mar: $325k)
Lead Conversion Rate:
Quarterly Average: 40% (Consistent across months)
Average Policy Value:
Quarterly Average: $2,515
Customer Retention Rate:
Quarterly Average: 89.67% (Dip in Feb to 88%)
Cross-Selling Rate:
Quarterly Average: 32.67%
Customer Satisfaction:
Quarterly Average: 4.5/5
Sales Cycle Length:
Quarterly Average: 25.33 days (Fluctuation observed)
nsights and Next Steps:
Stable Growth: Minor growth in sales volume indicates potential in lead conversion.
Consistent Conversion: Stable 40% conversion rate suggests room for improvement with more training.
Revenue Potential: Explore the policies sold in February for the uptick in average value.
Retention Analysis: Investigate February's slight dip in retention rate.
Boosting Cross-Selling: Product bundling training could increase cross-selling rate.
Sales Cycle Analysis: Understanding February's increase in sales cycle can identify bottlenecks.
Conclusion:
Using the KPIs, DIA was able to gain in-depth insights into their sales team's performance. With these data-driven metrics, they can now implement targeted strategies for consistent growth and improved customer satisfaction.