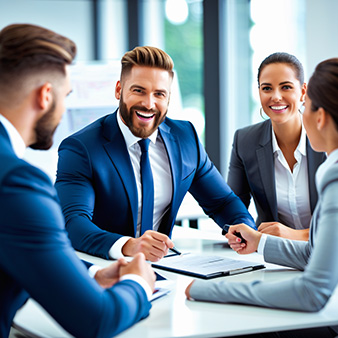 Setting the Scene: "Secure Future Insurance," is an agency where the sales team, though talented, faces motivational and training challenges. Sandra, the agency's dynamic owner, knows that in today's world, insights often come from data. In collaboration with John, a consultant renowned for using ChatGPT, they embark on a mission to leverage business data to revamp the team's performance.
The Data Snapshot:
Leads Approached: 500
Successful Conversions: 100 (A 20% strike rate)
Monthly Sales per Agent (Average): 5
Star Performer: Jane, clinching 15 sales/month
Struggler: Mike, with just 2 sales/month
Predominant Customer Feedback: "How does your offering differ from others?"
From the Sales Team's Desk: "Articulating our unique value is challenging."
Diving into Analysis with ChatGPT:
Performance Range: A notable difference in sales achievement between team members.
Value Proposition Clarity: Both agents and customers underscore the need for clarity on the agency's unique offerings.
Strategies Derived from ChatGPT Insights:
Learning from the Best:

Introduce sessions where achievers like Jane share their secrets. Such peer-to-peer insights can galvanize the team and furnish them with tried and tested strategies.

Clarifying the Unique Value:

Roll out a comprehensive training focusing on the distinct advantages of "Secure Future Insurance" policies. Dive deep into aspects like unique coverage points, exceptional customer support, and speedy claim resolutions.

Instilling a Competitive Spirit:

Bring in a gamified leaderboard, where agents accumulate points not just from sales but also from training participation, positive customer feedback, or constructive peer interactions.

Feedback is Gold:

Foster a culture of regular feedback. Let agents share their hurdles, and use ChatGPT to sift through these to craft actionable solutions. For instance, if Mike finds a certain objection recurrently tricky, he can receive tailored training content.
Predicted Outcomes Post-Initiatives:
Conversion Boost: Through peer learning and sharper differentiation training, conversion rates could see a rise from 20% to 30%.
Morale Uplift: Recognizing high-performers and offering continual learning can lead to a more motivated and cohesive team.
Balanced Sales Across the Board: By addressing individual challenges, the performance spectrum can be narrowed, ensuring more consistent sales numbers across agents.
Wrapping Up:
This use case underlines how data, when coupled with cutting-edge tools like ChatGPT, can be transformed from mere numbers into actionable strategies. "Secure Future Insurance" now has a roadmap to not only enhance their sales team's performance but also ensure a more fulfilling work environment. For businesses grappling with similar challenges, this instance showcases the transformative power of data-driven insights brought to life through AI.