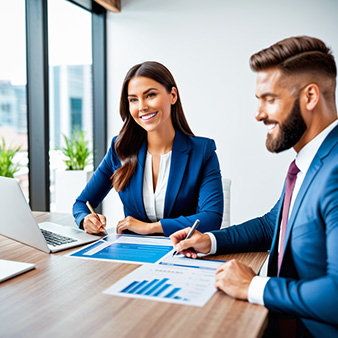 Background: Jane owns "Downtown Insurance," a local insurance agency in Springfield. While she enjoys a steady stream of clients, she senses potential markets are untapped. To validate her instincts and craft a strategic approach, she decides to leverage data-driven consulting.
The Challenge: Understanding the diverse and evolving Springfield demographic to better align her insurance products with potential markets, while navigating a competitive landscape.
The Approach: Jane collaborates with a consultant leveraging ChatGPT, an AI-driven tool, to analyze both internal business and external demographic data.
Hypothetical Data Gathered:
Downtown Insurance Client Data:

Age Breakdown: 10% (20-30), 45% (30-45), 40% (45-60), 5% (60+)
Product Preferences: Home (50%), Auto (35%), Life (10%), Business (5%)

Springfield Demographic & Economic Data:

Population Age Breakdown: 30% (20-30), 25% (30-45), 25% (45-60), 20% (60+)
Economic Trends: 15% increase in tech start-ups, 20% increase in home purchases by 20-30 age group.
Key Insights:
Demographic Potential: A gap exists in serving the 20-30 age bracket. While representing 30% of Springfield's population, they form just 10% of Downtown Insurance's clientele.
Emerging Market Opportunities: The tech start-up boom and home purchase trend among younger individuals present fresh avenues for business and home insurance, respectively.
Strategic Recommendations:
Digital Outreach: Implement digital marketing campaigns on platforms frequented by the 20-30 age group. Emphasize the importance and benefits of home insurance, especially for new homeowners.
Tailored Business Insurance: Forge partnerships with local tech hubs and incubators. Offer start-up-centric insurance packages, perhaps even facilitating informational seminars on risk mitigation.
Elevate Customer Experience: Invest in tools for quicker claim processing. Given younger demographics' digital inclination, introduce a 24/7 customer support chatbot.
Outcome: Post-implementation, Downtown Insurance notices:
A 25% spike in home insurance inquiries from the 20-30 demographic.
A 30% uptick in business insurance discussions with tech start-ups.
A 10% rise in positive online reviews praising the agency's efficiency and customer service.
Conclusion: Data-driven insights, coupled with strategic implementation, can unlock latent market potential. As demonstrated with "Downtown Insurance," understanding demographic trends and aligning services accordingly can catalyze business growth in a competitive environment.